CYBERIA – Lebanon launches its first comprehensive self-care mobile application, offering subscribers a personalized account management experience, to monitor monthly consumption, easily renew accounts, promptly manage extra services subscriptions, request support and stay informed about the latest news and company announcements.

The app will allow a Cyberia customer to:
Add and manage multiple ADSL or 3G accounts within the same app.
Backup the accounts and restore them to other mobile phones without re-entering all usernames and passwords.
Check the traffic consumption meter and service expiry date.
Renew one or more subscriptions using prepaid scratch cards or using a debit or a credit card.
Instantly subscribe to, unsubscribe from, activate or turn off extra services such as Parental Control or Unlimited night.
Receive direct notifications about network maintenance, service availability or policies updates.
Stay updated on Cyberia – Lebanon's latest offers, promotions and services.
Immediately refer a customer, and be rewarded when the customer subscribes.
Locate by area or by nearest, and get navigation directions to resellers across Lebanon.
Contact support by phone or e-mail through the app.
The app is an enhanced mobile version of Cyberia's online account management.
The app is compatible with Android ver 2.3 and higher, with apple iOS ver 7.0 and higher, and is available for download on Google Play Store or on Apple's App Store.
Call Center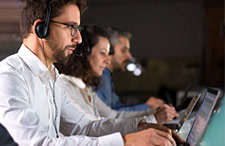 Our Sales Team will be ready to assist you week days from 8:30am till 5:30pm and Saturdays from 9:00am till 1:00pm.
Call us at 01-744 101